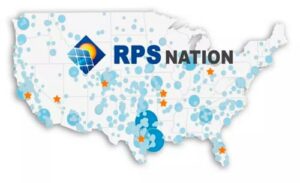 Why RPS? Where are you located? 
RPS is a growing 100% American owned company of friendly, helpful solar water specialists. Together on this team we have years and years of experience, the best products in the industry, and famously helpful support engineers that live and breathe solar pumping almost every hour of every day. Our main shop has moved out to the middle of nowhere near the train tracks in the Agricultural part of Northern California (we do get poked fun of for this!). We put great time, money and thought into our kits – including parts and components to make installation a breeze. Our reading materials, manuals, videos and diagrams allow customers of all skill levels to install a solar pump successfully the first time. As has become famous, we also offer a direct line to talk with real humans! ..our actual pump engineers for asking questions, helping troubleshoot, or planning for installation.
How reliable are your pumps? How long have you been in business? 
We started development of our first solar pumps in 2012 and after much testing and refinement, we launched our first pump for purchase in 2014. With all our pumps still in the field, and four major winter upgrades from our engineering team, we are confident we have the highest quality pump that you can install yourself on the market, and the only comprehensive kit designed to make it easy. We believe our customers's actions speak more loudly, with the majority of sales this past year coming from happy returning customers and their referrals.
How do you compare with other pump brands? 
Consumers historically have had lots of choices when it comes to AC-grid powered pumps. For solar there are far fewer options because it's a much smaller market and frankly the big European corporations in their ivory towers just don't care. All these ridiculously expensive pumps must be installed professionally at great expense or their warranty is void. We focus ONLY on solar and have iterated and developed much faster than these European corporations making our systems more reliable on US soil. Cutting out multiple middlemen in the process has made our systems cheaper for our customers without sacrificing quality. Like in most industries we also compete with lots of cheap products, both from the US and from Asia. Cheap brushed motors, flimsy plastic diaphragm pumps, and fake warranties are making a bad name for solar. We have stayed strong and maintained our high quality knowing that integrity, quality and reliability win in the end. Our reputation for our commitment to our quality products, warranty and honest, friendly and respectful support is why more customers continue to trust RPS.
Friendly-looking dogs on the website. What are their names?!
Elsa is an Icelandic Shepherd and she loves swimming in cattle troughs. Especially when the water was pumped with solar power!! Roux is a mutt and hangs out on the forklift at the warehouse and at her off grid cabin chasing gophers.
We hope you'll read our 'Pledges' and the letter from one of our owners to better understand who we are, and the product we continually improve and stand behind with great pride. We are honored and blessed to have such great staff and customers all over this great country. 
Call us toll-free at 888-637-4493
OR
Sizing form will appear here shortly. Taking too long?
Click here
.