Request for NRCS Documentation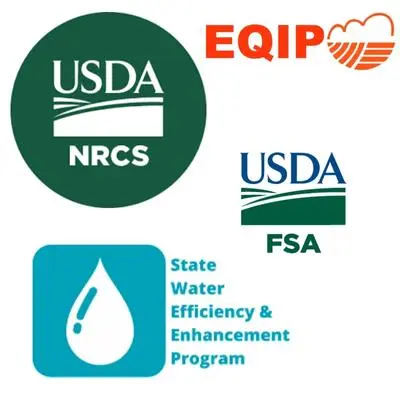 RPS Solar Water Pump Systems have been approved for every one of the different federal or local American agricultural agency programs. RPS can often help the applicant in navigating this process, alleviating workload on government partners. Our kits make solar pumping easier than ever, giving you the tools and know-how to do it yourself.
RPS Project Partners include…
Arizona BLM ● Arizona Dept Fish and Game ● CA Dept Fish and Game ● Nevada Dept of Wildlife ● North Dakota Dept Fish and Game ● Tennessee Conservation Service ● Ute tribe Fish and Wildlife ● US Bureau of Reclamation ● Wyoming BLM ● USDA NRCS for EQUIP or FSA projects in 37 states and growing: Alaska, Arizona, California, Colorado, Connecticut, Florida, Georgia, Hawaii, Idaho, Indiana, Iowa, Kansas, Kentucky, Maryland, Michigan, Minnesota, Mississippi, Missouri, Montana, Nebraska, Nevada, New Hampshire, New Mexico, New York, North Carolina, North Dakota, Ohio, Oklahoma, Oregon, Pennsylvania, South Carolina, South Dakota, Tennessee, Texas, Utah, Washington, Wyoming
Want more NRCS project examples?
Our team helps thousands of ranchers every year find the right size solar pump in conjunction with agencies with NRCS, USDA, FSA and more. Better yet, if you want to talk with a real person with answers about your project and what its like to apply for one of these grants, get ahold of our friendly team at 888-637-4493.
Chuck Anderson of Anderson Farms Beef installed an RPS 400 and TPP all by himself to help fill stock tanks anywhere on the property. The entire project was funded through Tennessee NRCS! Chuck was so impressed by the solar pump operation, he's went a step further and hosted a Solar Pump Farm Tour for NRCS Engineers and Tennessee Master Beef Program. More pumps are in the works for the area!
Update 2022: Chuck won a Tennessee Small Farmer of the Year Award and $1,000 for Best Management Practices, the award specifically highlights his solar powered pump water system. Excerpt from article write up on the award…
"Chuck Anderson of Anderson Farms said the system works through 12-solar panels on a pump house at a natural spring. Anderson said it keeps the water line charged and pumps water across the farm to fill cattle waterers."
"Some of the work that we do there is artificial breeding and that's how we kinda got started on this water project," Anderson said. "The key to artificial breeding is having good nutrition. We found by draining our ponds and providing a clean water source really helped our animals along."
'We have a lift pump that is in the ground at our spring," Anderson said. "We lift the water up a hillside probably a rise of about 50 feet or so of a distance of 400 feet to a 1,000 gallon tank. At that point, we have a tankless pressure pump that charges approximately 6,800 feet of water line across the farm."
"Anderson said once it was completed, the farm drained its two lakes, so the cattle would use the new water source. Anderson said the state reimbursed 75 percent of the project cost through a grant."
I have only good things to say about RPS. The pumps were exactly what I needed. I left all the settings as "default" and it worked right out of the box. – Chuck Anderson, Anderson Farms Beef