Robbie's Ultra Fast Livestock Install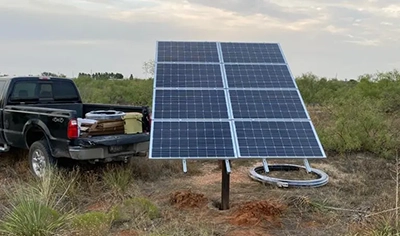 Texas
"Robbie's Ultra Fast Livestock Install"
Installed:
Future Ranch Expansion Plans
As of right now I've got 65 acres that we're runnin'. We're keeping a pond full for wildlife and a stock tank waterer. We're not running any cattle yet but we're going to be moving some in the spring, so these (pumps) are going to be integral in our operation moving forward.
Install Experience
My install on both systems, the RPS 800V and the RPS 200, went very smooth just as the paper had said they'd be. I've had experience planning water well pumps in the past, it wasn't anything new for me, for sure. It was very self explanatory, of course we made sure the pumps were tested before lowering them in the hole to make sure everything was working correctly.
Since I had ordered two Turnkey systems the only issues we had were with the shipper. We had two important packages that didn't quite make it here when everything else did. Everything was pre-wired and pre-measured in the shop before heading out to the field until we realized "Hey, we're missing some important parts here" and we can't move forward. Other than that, everything was real smooth and once we got the other parts in it was easy install. Both systems are working great, no issues, just pumping water!
Setting up Both Systems in the Same Day!
After you run the first one the second one takes 10 minutes, not counting putting the solar panels up. I did the RPS 800V first, went over one evening and mounted the panels and next evening did the RPS 200 panels. Then came out on a Saturday and did both pumps, had em' pumping. Took us maybe 5 hours to put both in. When we put that RPS 200 it might have took 30 minutes, I'll be honest with you, from wiring to pumping water.
Dueling RPS 200 and RPS 800 Systems
The 6'' well is probably going to be my primary well, that's running with the RPS 800V on it, and the other 4'' well is keeping a small trough full of water for wildlife. I got a pond on the 6'' well that is 2,000 gallons, not real big. I just keep it full and topped off, but we experience quite a bit of evaporation. Especially in the past month we've had some 100 degree weather, that's always pretty tough, the RPS 800V has kept us where we needed to be so we're full at all times. I've gone over with a bucket and a timer. The RPs 200 is giving me about 5 GPM and the RPS 800V is still getting about 15 GPM.
I'm hand running both pumps right now, I haven't set them up to run completely automated, because I didn't need it running all the time and I didn't run my second sensors yet. I do know that it shuts off about 6:30 in the evening when the sun's going down. I get over there in the afternoons and I turn them on. The ponds usually full by the time the sun goes down. And then we'll turn them off by the end of the day in case I don't make it back by the next day.