Dock Install to Storage Tank with Pressure Shut Off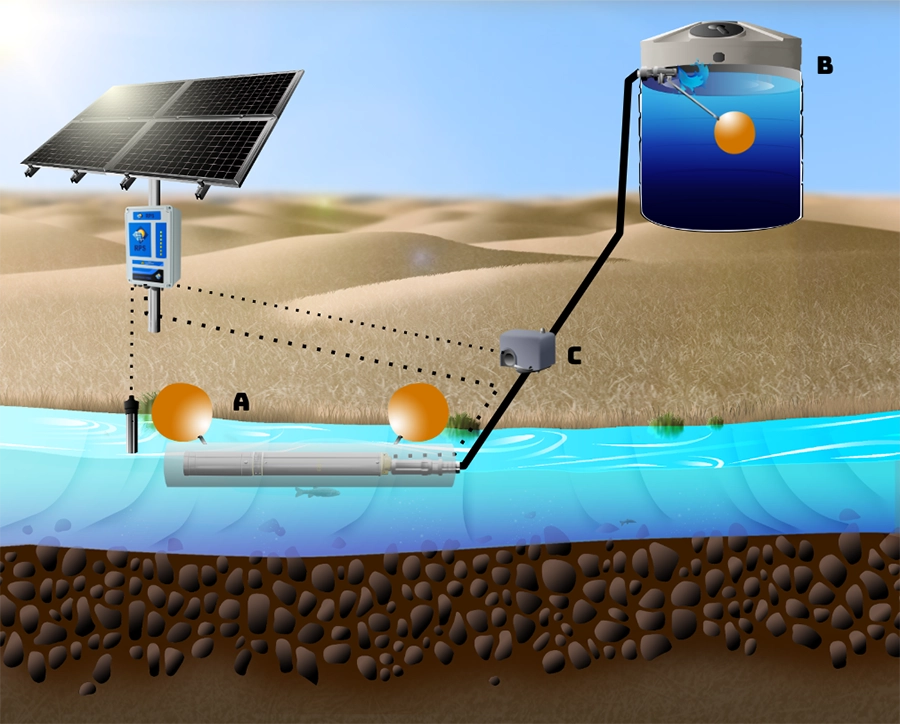 A dock provides an optimal place to hang one of our submersible pumps in a pond. Using a marine grade safety rope (A), shown as the yellow strand attaching pump to dock, the pump is submerged vertically beneath the surface of the water. You can then pump water to a variety of next steps like a stock tank, pressure tank, direct to drip lines, hoses, even unique setups like waterslides or fish cleaning stations. In this example, water is pumped to a faraway storage tank. Usually, we use a wet/dry tank full sensor wired directly to the control box. But since the tank is 1000 feet away and no one want to trench wire that far, a pressure shut off system is used and comprised of the following three plumbing pieces….
1) A one way check valve to help build pressure in the line and prevent backflow. Attached directly off the pump. 
2) A reverse action pressure switch (B) dropped into the pipeline to sense changes in pressure from the mechanical float valve. The reverse action pressure switch is still hardwired into the charge controller (shown underneath the solar panels), but is placed closer to the pump and therefore uses substantially less wire than a wet/dry sensor.  
3) A mechanical float valve (C). If the tank fills up, the float rises and closes the pipeline, spiking line pressure and the reverse action pressure switch sends a small electrical pulse to the charge controller to turn the pump off. If the tank is emptying, the mechanical float drops to open the pipeline, line pressure releases and the reverse action pressure switch turns the pump on.