Pros and Cons of Solar Water Pumps
Solar Pump PRO – Save on Energy Costs
Because solar pumps use only the energy from the sun to run your pump, fuel costs are zero! Once you have your solar panels, there are no more costs to run the system on a day-to-day basis.
The costs of fossil fuels for generators or paying for grid power can really add up. The major advantage of a solar water pump is the convenience of not having to be victim to the sky-high inflation of fuel costs in recent years.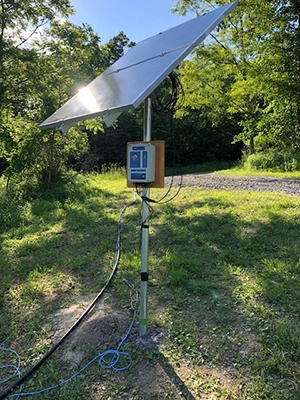 Solar Pump CON – Doesn't Work on Cloudy Days
That's actually not true! Our RPS systems have been known to continue to pump perfectly even on cloudy or rainy days. If you're worried about not having enough power, we do offer a 110V or 220V converter to allow your system to run on grid power or generator if need be.
The other option is to choose a system like WaterSecure that allows for battery backup when the sun isn't shining. Most people pump into a holding container during solar hours and then use gravity feed or a Tankless Pressure Pump to move water into your home or fields at night.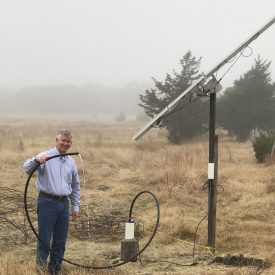 Solar Pump PRO – Less Labor and Maintenance
Solar pumps require less labor and maintenance compared to AC pumps. First, you won't run out of fuel and need to travel to the gas station when your cows are thirsty.
Second, solar pumps, especially with our 2 year warranty and lifetime customer service, won't let you down. Windmills and AC pumps require a lot of servicing and regular maintenance. Just remember to keep your solar panels clean to keep it producing as much energy as possible and that's it!
No hauling fuel, no climbing windmills!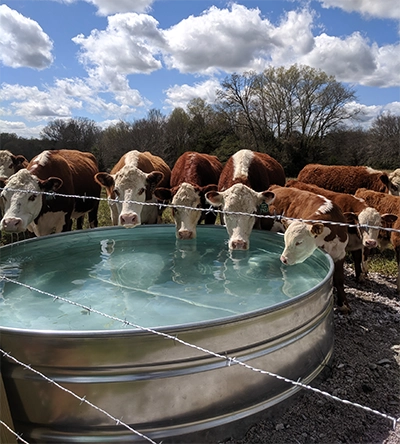 Solar Pump CON – High Upfront Costs
The upfront cost of a solar water pump can look like a big number at first, though we try to offer a solar water pump system at every price point.
Once you purchase and install your system though, there is very little cost required to maintain and run your system. The long life of an RPS pump saves you money on replacement and repair costs over time. With fuel costs being zero, you start to make your money back right away.
(See the charts to the right and below to see how a solar pump saves you $$ after just one year.)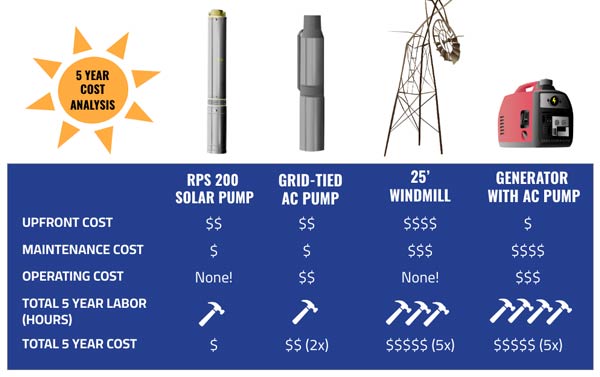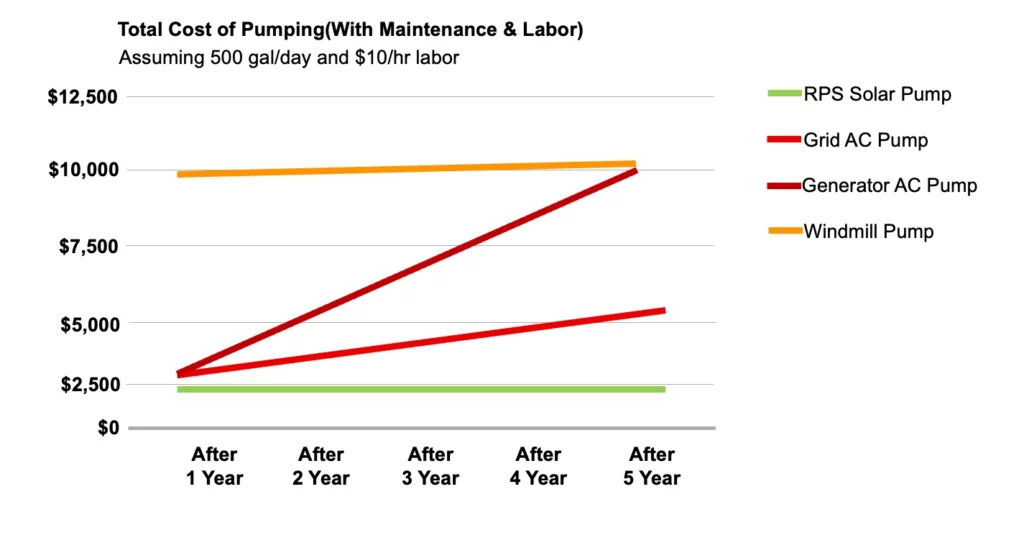 Solar Pump PRO – Environmentally Friendly
Solar Pumps greatly reduce the carbon-footprint of any farm or ranch by eliminating emissions from generators or those ultimately created by grid power.
Solar water pumps are also extremely versatile and able to bring water to areas where there was none; allowing wildlife and plants to flourish.
Overall, they're a great choice for any homestead or farm as a solution for irrigation, watering livestock or supplying water to your off-grid homestead.
Start by sizing a livestock solar pump to your well and water needs..
Our team helps thousands of ranchers every year find the right size solar pump system, and then how to prepare for your install. We love talking livestock and water. Click here, or if you prefer to call us directly, 888-637-4493 and ask for a Free Ranch Water Survey.
OUR PLEDGES TO YOU
Be a company our Grandfathers would have trusted. The trend of 'outsourcing' customer support after the sale is a trend we wholeheartedly oppose. We are an American, family run company and our USA engineers support you before and after the sale.
No sales pressure. Ever. Nobody in the company is paid on commission. We think this is important. Their role is to make sure they find the right pump for you and your well. If we don't have a livestock solar pump that will suit your needs, we will help you find a solution elsewhere. Our job is to help get you water.
Reliable Water. All manufactured products have occasional issues and we can't claim to be perfect. However, we are proud of a near perfect track record in getting our customers water. This starts with selling a pump sized for your usage with our Water Assurance Plan and promptly addressing warranty issues to get you up and pumping again quickly.
Give you the power! When you control your ability to pump water out of the ground, whether that is in the field or at home, it makes you more resilient and independent. We are here to help educate you about solar water pumping for livestock and our systems over the phone, with our manual, and our great videos online, so you can install yourself. Take control of your water supply today.
Fight for the American farmer & rancher. RPS is a David & Goliath story of a small American company fighting against a big European pump corporation that cares more about profits than the longevity of their pumps and the sky-high price for ranchers. Thanks to all our customers for the support of small business vs. foreign corporations trying to profit off some of the hardest working people in our great nation.
The RPS Team